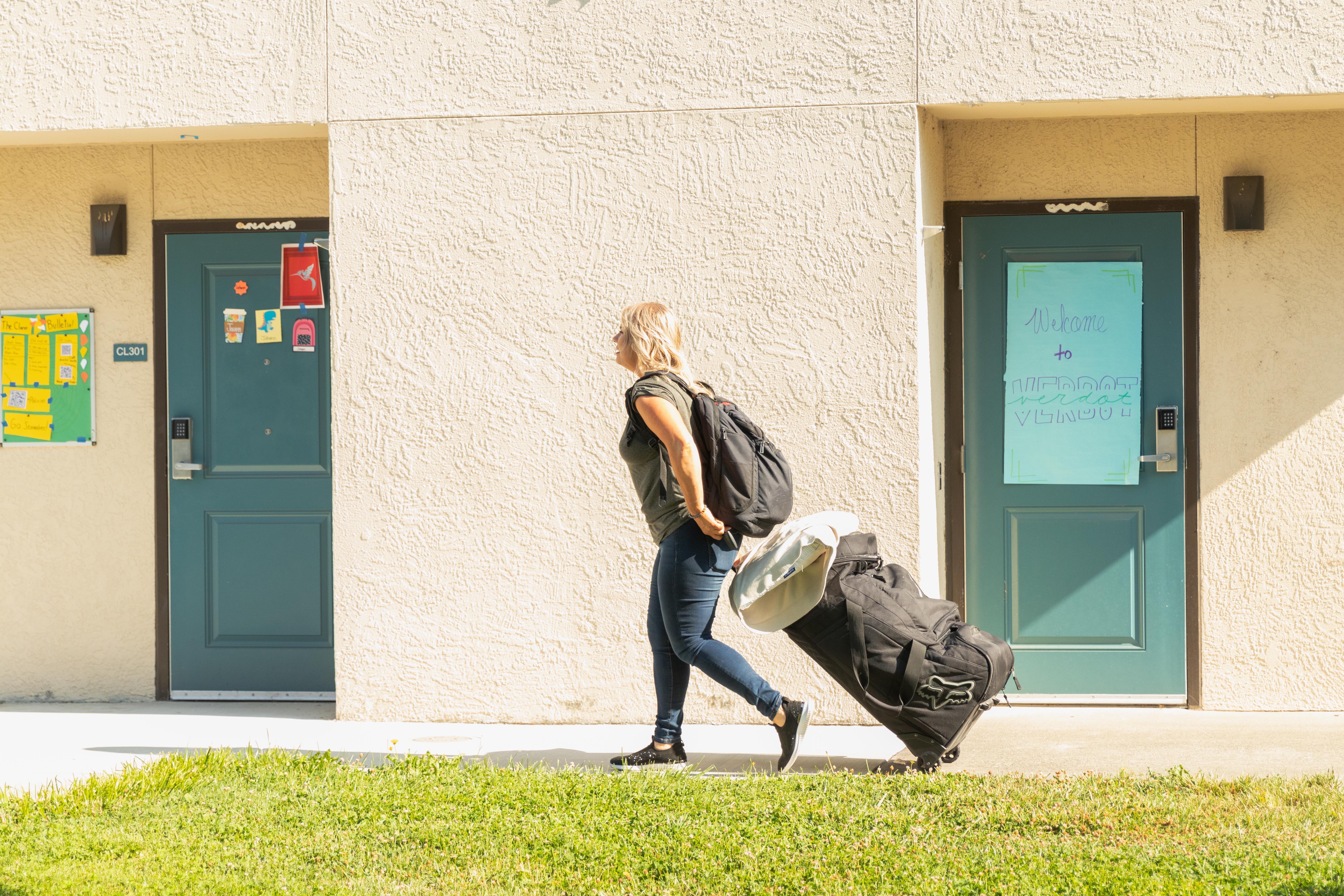 We are excited to have you join us on campus this semester.  Whether you are new on campus for the Spring semester, or you are returning from the Fall semester, we are looking forward to having you in the Residential Community! To be fully prepared for the Spring semester, please review the information below in order to have a successful move-in experience. And please remember to be mindful and considerate of your roommates by keeping your residence clean and orderly if you return before them.
New To Housing
Spring 2023 Move-In: January 20, 2023
Are you a new resident (starting at Sonoma State this Spring or was not living on campus for Fall)?
Visit the REACH Office during Check-In hours (see below) to activate your Seawolf ID card, or receive a temporary card until you receive a Seawolf ID card. You will also receive Move-In materials at this time. (Please scroll down on the page for additional information specific to you).  *We are not able to accept early arrival requests.
Returning to Housing
Are you a registered Winter Break/Intersession Resident?
Your Seawolf ID card is already active for the Spring semester, thus, you are not required to complete anything else. 
Are you a resident who has not registered for Winter Break/Intersession?
Please complete the Winter Break registration online through your Housing Portal. You will be sent a confirmation email along with instructions on how to access your residence. 
Are you a resident who lived on campus for Fall and will be returning to the same room? 
You will be able to go directly to your room and not have to re-encode your Seawolf ID card. The only reason you would have to visit the REACH Office is to activate your card if you had a temporary card right before break and never reactivated it.
Are you a resident who received approval from REACH to change rooms? 
Visit the REACH Office during Check-In Hours (see below) to activate your Seawolf ID card and receive Move-In materials.
REACH Office Hours During Check-In
We look forward to assisting our residents during our office hours. The REACH Office, located in Zinfandel Hall, is open Monday - Friday, 8:00 am - 5:00 pm. We will be open January 21, 2023, and January 22, 2023, from 10:00 am - 3:00 pm to assist residents. If you are locked out, please come to the REACH Office during our business hours for lock-out service.  After hours, please contact the On-Call RA for your Village.
Dining Venues On Campus
Below are the hours of operation for dining venues on campus during the spring move-in. For more information, please be sure to visit Culinary Services webpage. If you have a meal plan, it will start working at 9 a.m. on Sunday, January 22, 2023, so please plan accordingly.
*all First Year First Time Freshmen are required to be on a meal plan. Sophomore and above students can purchase a meal plan through their SSU Online Services. Please see Culinary Services' webpage Meal Plans for additional information. 
Friday, January 20
Sip: 7:30 am-3:00 pm
Lobo's: 11:30 am-3:00 pm
Grubhub Campus: 7:30 am-3:00 pm
Weyden + Brewster: 11:30 am-2:00 pm
Saturday, January 21
No venues open 
Sunday, January 22 
The Kitchens: 9:00 am - 7:30 pm
Additional Reminders
After Hours Contact Numbers
Cabernet, Sauvignon, and Verdot Villages: 
On Call RA Cab/Sauv/Verdot Phone #1 - (707) 696-2269
On Call RA Cab/Sauv/Verdot Phone #2 - (707) 696-2173
Beaujolais Village
On Call RA Beau Phone #1 - (707) 529-8118
On Call RA Beau Phone #2 - (707) 696-2608
Tuscany Village
On Call RA Tuscany Phone #1 - (707) 236-2188
On Call RA Tuscany Phone #2 - (707) 228-8084
Vacant Spaces
If you have a vacant space in your residence, please make sure that space remains empty and clean, as you may receive a new roommate. More importantly, please welcome new roommates with kindness and help them feel welcome. 
Vaccine Requirements
Students will need to be in compliance with the Vaccine requirements. Please see SSU's Vaccine Requirement webpage for additional information. We encourage students to take a COVID-19 test 24-48 hours before arriving. This is not a requirement. For the health and safety of your fellow Seawolves, please take care of yourself and do not arrive to campus if you are feeling unwell or have COVID-19 symptoms. 
Weather
Weather conditions during move-in can vary this time of year. We recommend checking the weather before you arrive and plan accordingly.
Additional Information for New Residents for Spring
Upon Arrival to SSU
Moving in during our office hours will allow us to provide you and your family the easiest, quickest, and safest way to move your belongings into your suite or apartment. Residents who arrive outside of our office hours will experience a delay at check in.
Follow this process to speed up your move. See the Move In directions to the REACH Office. 
Prior to arrival, log into your Housing Portal to view your room assignment and PIN code.
Park in the residential parking lot between Verdot Village and Zinfandel Village.
Follow the check in signage directing you to the REACH Office to check-in. 
Receive a temporary key to your residence (good for 2 weeks). Residents who have their current SSU ID card can get their ID card encoded for the residence. 
Drive to your village to unload your belongings. 
Unloading & Long Term Parking
We are encouraging student to NOT park close to the village for longer than 15 minutes in order to allow incoming residents the ability to temporarily unload belongings
Move the vehicle to a location away from the village for long term parking.
We are unable to provide moving cards and encourage students to bring dollies or hand trucks from home (if available) to assist with moving.
Do not leave your vehicle unattended.
Access to Your Room
Your student ID card will be your "key" to your residence.  The front door requires dual authentication (swipe with ID card and enter the issued PIN Code followed by "#"). You will need the Door PIN code (available on the Housing Portal 2 weeks prior to arrival) to access the front door of your apartment as well. Your PIN code is a random number generated by our key system and cannot be changed. Store your PIN code in a safe place and do not share with others. PIN codes cannot be given out over the phone. 
If you do not have a valid ID card, you have been issued a temp card until you obtain your SSU ID Card – which can be done through Seawolf Service Center located in Salazar Hall.  Temporary cards issued at check-in are valid until February 1.  You will need to transfer your room information from the temp card to your SSU ID BEFORE then. View how to use the electronic lock.
Once You Are Here
You will receive an email at your SSU account welcoming you to the Residential Community and containing a link for our Room Condition form. Please take a few minutes to look around your room before unpacking and complete the online form. If there are any maintenance issues (maintenance or custodial), please submit a work order as well as noting it on the Room Condition form. 
Trash, Cardboard and Recycling
Please bring empty boxes and trash to the large dumpsters located in the parking lots.  The small litter receptacles are intended for litter only – not room trash & recycling. 
Mail & Packages
Every resident is assigned an on-campus mailing address with a specific mailbox number.
Your mailing address:
<First Name> <Last Name>
1701 East Cotati Ave. # <box>
Rohnert Park, CA  94928
*your box number was provided on your Housing Portal with you room assignment.
Package: 
Packages will be available for pick-up at the Zinfandel Service Desk located in Zinfandel Hall. See our mail and packages resource webpage for more information.
Television, Internet & Wi-Fi
Living on campus allows you to connect directly to the campus network and internet from your residence.  Wireless networking is available in all buildings of the Residential Community.  Please see IT's student get started website for further information. 
Residents receive XFINITY On Campus which allows residents to stream live TV and XFINITY On Demand wireless through laptops, tablets, and smartphones. Xfinity On Campus supports watching live TV, DVR, and On Demand content via a Roku XFINITY Stream beta channel. Residents will sign in using their SSU username and password to gain access to their favorite programming and thousands of On Demand shows and movies.
Visit this website for additional information on XFINITY TV.
Laundry Facilities
There are multiple laundry facilities located in the residential community.  There is no charge for residents to use the laundry rooms. Locations: 
Cabernet Village - in between Muscat and Merlot by the Carneros meeting room
Zinfandel Village - in the building Traminer
Verdot Village - next to Chenin Blan near the parking lot in the Sangiovese Building
Sauvignon Village - in Colombard, Fume Blanc and Grenache Buildings
Beaujolais Village - in Alsace and Medoc buildings
Tuscany Village - In Piemonte and Trentino buildings
Meal Plans, Dining Dollars and WolfBucks
As soon as the semester begins, your SSU ID Card will also function as your meal access card if you have a meal plan.  Experience various flavors, quality food, and beverages at our dining locations. Whether you are in the mood for signature coffee featuring Starbucks classics, Mongolian-style BBQ, street tacos, or just some classic American favorites, you will find what you're looking for!   You'll also be able to order your favorites from the Grubhub campus mobile app when venues open.  Prior to classes beginning, you can dine on campus at SIP, Lobos or GrubHub which accept cash or credit/debt cards. For more information about what is open and meal plans, please visit the Culinary Services website. 
What is the difference between Dining Dollars and Wolfbucks?
Dining Dollars
The meal plan includes a designated amount of a declining balance credit for each semester called Dining Dollars. Dining Dollars can be used at any dining location on campus. When making a food purchase, simply present your Seawolf ID Card to the cashier and let them know you would like to pay with Dining Dollars. The amount of your purchase is then deducted from your Dining Dollar balance.
Wolfbucks
The WolfBucks program is a debit-based card system that virtually eliminates the need to carry cash on campus! Simply deposit funds into your account, and enjoy the convenience of being able to make purchases at participating locations by swiping your Seawolf I.D. card!
SSU Bookstore
Our campus bookstore is the provider of the largest selection of low-priced rental, digital, and used textbooks.  They price-match their textbooks with Amazon and BN.com. Drop in to purchase authentic SSU gear from the University Store and pick up a snack or drink.  Wolfbucks can be used to purchase anything in the store except gift cards. The University Store is open Monday through Friday from 7:30 am to 5:00 pm. For more information, visit the University Store website. The University Store is located in the Student Center on the second floor.